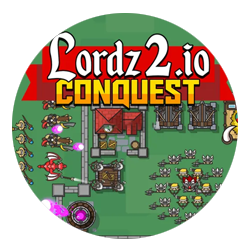 About Lordz Io 2
Lordz Io 2 is a really awesome strategy game and trust me, it is much better then the previous version of the game. There are so many updates and upgrades that I'd better not compare those two parts of the game - they are absolutely different. The second version of the game has a better graphics, better units and lots of upgrades so you will definitely have fun playing it. If you came here because you loved the first version, you will need some time to understand how the things work in this game. As for me, this game is much more interesting but at the same time more complex and there is one thing that I hate in this game - here you can't move your soldiers with mouse - you must use WASD buttons to move and hold mouse pointer to attack the enemy. In my opinion, using mouse to move the army is more easy and better but the developers don't agree with me. Let's continue with the game description and basic rules.

One of the best things that the developers added to Lordz Io 2 is the ability to build walls. It is very useful to build a defensive wall across your base to get extra security. Another feature that most of the people love is building army near your base. Now you can't generate the soldiers if you are not near your base and that's awesome - the enemies will have some time to go back to their base and train new soldiers, while you can repair the walls and other defensive structures. The defensive towers were also upgraded and now you can choose their basic features - either equip it with heavy weapon to strike bigger enemies or use faster attacks and even freeze attacks. There are so many different upgrades that you will definitely spend hours until you find out everything.

The way of building your army was also changed and now you will need special building to train different types of soldiers. For example, to build cannons you will need one building, to train mages and healers you will need another. Yes, the function of healing is very interesting - you can now train a new type of soldiers which will heal your army. Now every soldier of your army has its own health bar and you can easily control the power of your troops. Lordz Io 2 brings a lot of other upgrades and some people don't like them while others enjoy them very much. In any case, if you love the first part of the game you got to try the second one too.
Copyright © Lordz-io.Com. All rights reserved | Game copyrights belong to their respective owners or authors.