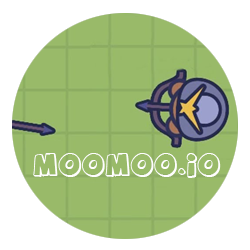 About MooMoo io
MooMoo io is one of my favorite multiplayer strategy games which I love to play with my friends. If you love strategy games I am sure that you will greatly enjoy this game because it offers an outstanding gaming experience, interesting graphics and a lot of upgrades for your character. Just like any other game, here you start with level 1 and have no resources and no very weak weapons. There are three basic resources in the game - Wood, Stone, Gold . All of them can be gethered but require different skills. For example, for mining gold, you should build special buildings ( Windmills) which will generate gold. To get some wood or stone you should find trees or stones and use weapons to collect them. The types of weapons also depends on your gaming style - for more defensive style you can equip axe which is great for gathering resources but weak in battle or even the stick which is absolutely useless at fight but collect resources at best ratio. More about different gaming strategies you can read below.

Building a strong base is very important to secure your windmills and other buildings. You can even build a wooden or stone wall to secure your base but keep in mind that the number of stone walls is limited so finding a best place for your base is very important. Try to build in the corners of the map or near the water so one side of the base will be defended by default and the wall can be more stronger. More defensive structures like cannons can make your base even more secure. Some players also use spikes and traps to get advantage over the enemies.

Hunting in MooMoo io is very important because it can bring you a lot of resources. For example, killing a bull can give you gold, while killing a wolf give you food. Be careful, the wild enemies are dangerous and can easily kill you if you don't use traps or get a strong weapons. The gold is mostly needed to buy armor and hats in the shop. Some of the hats are just to change the look of your character, while others can give you additional skills, like faster movement, more damage and even make you invisible. There are so many different combinations of primary and secondary weapons and this makes the game very addictive. It is always better to make a team and build base together - some players should focus on getting resources and building defense, while others will attack the enemies and dominate the map. Enjoy the full version of MooMoo for free at our website.
Copyright © Lordz-io.Com. All rights reserved | Game copyrights belong to their respective owners or authors.