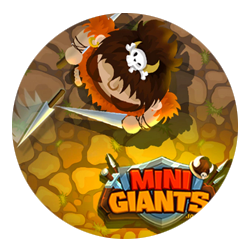 About MiniGiants
MiniGiants is a pretty interesting and addictive multiplayer game where you have to fight with hundreds of other players all around the world. Even though that today there are hundreds of similar games, MiniGiants is one of the best arena-fighting games that you can play online for free, that's why we dedicated this page for this game. The gameplay is pretty simple - you start the game being a small warrior with a weak weapon. You have two strategies available - you either stay away from other players and try to collect stones or try your best to kill a player who has low health left. In first case, you can really succeed because collecting stones make you level-up and become bigger while trying to hunt bigger players is a bad idea. The bigger players have better weapons and can do a much more damage to you so you will die with one strike.

In MiniGiants it is very impossible to level-up as soon as possible because the arena is really little and you will have to face the enemies sooner or later. The best strategy is to keep away from corners because if the bigger player will chase you, you just can't run away and will be killed. Another important thing that you should keep in mind while playing MiniGiants is the chests which players leave on the battlefield when they die. You can kill other players to get their chest or try to find the chest left by someone else. In any way, getting the chest will make your character level-up and become bigger.

When you respawn after beging killed, you start from the very first level and the only thing that you can do is to run away from stronger players. The running bar which you can see on your screen has its limits - you just can't use the speed boost all the time so use it only when need it most. One more thing that you must keep in mind is that the bigger you are, the more slow your speed is. Sometimes it is better to use your speed and strike fast. The players can't regenerate their health during the match so use it wisely when entering the battle with a strong player - you may kill him but your health bar will become smaller and next enemy can be the last one for you. Enjoy the full version of MiniGiants game for free at our website.
Copyright © Lordz-io.Com. All rights reserved | Game copyrights belong to their respective owners or authors.