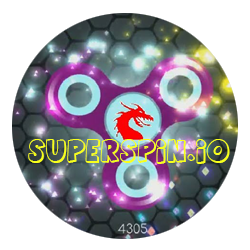 About Superspin io
Superspin io is a pretty interesting multiplayer game about spinners. Even though that the game is rather simple, it attacts more and more players so it is always interesting to play on the server full of real players all around the world. At the beginning of the game, you should choose your name and also select the skin for your fidget spinner. There are a lot of different neon glowing skins for your spinner but some of them are locked at the beginning of the game. You can unlock them when you gain enough exp. So, the rules of the game are basic : you start as a small and slow spinner. Your mission is to collect the glowing gems in order to grow bigger and faster. The more gems you have - the faster your spinner is spinning and as a result more chances for you to survive in the battle. You will definitely notice a lot of bigger players and the best strategy is to keep away from them at the beginning of your journey. If the enemy is bigger than you, he can easily damage you by making your score smaller or even kill you. Like any other io game, when you are small you better find a safe spot and collect gems to grow stronger rather then entering battles.

Battle scenes in SuperSpin io are a bit different then other multiplayer games. If the player which hits you is too strong, you will die with the first touch. If you survived - you will lose your score and the second strike can kill you. If you would like to join the battles, find a player which is smaller then you - in this case you will have a chance to kill him. Killing opponents is very important in this game because it gives you a lot of glowing gems at once and as a result, your spinner grows bigger faster. The leaderboard on the top right corner is your main goal - you should do everything to become the N1 spinner on the server so everyone will just be afraid of you.

SuperSpin is a mixture of several io games and many people enjoy it every day. As for me, there are much more interesting multiplayer games which you can find at our website, but if you love fidget spinners, you can give this game a try. Enjoy the full version of the game for free at our website.
Copyright © Lordz-io.Com. All rights reserved | Game copyrights belong to their respective owners or authors.